Blog
Music Makes Adult Birthday Parties Better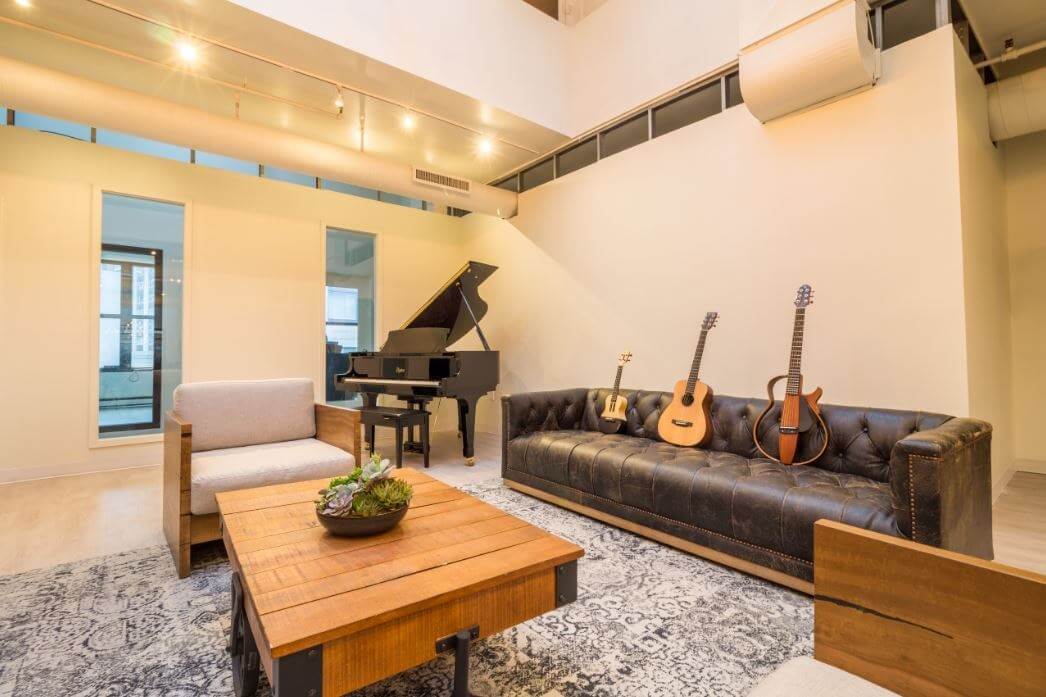 Woah! Another year flew by just like that. It's kind of hard to believe, but there's no need to fight it– you're about to be another year older– and you know what that means… Time to start planning this year's birthday party. And when you're planning an adult birthday party, it can be pretty easy to phone it in and do something pretty unremarkable.
Time to send out a group text and meet up at a chain restaurant with some friends, right?
Wrong. It's your birthday for crying out loud! Don't just fall into the easy trap of doing the same thing you would do on any other Friday night.
You are awesome, you are unique, and you deserve a birthday party that's fitting of someone as great as you. Don't fall into the "adult birthday party" trap!
For starters, here's what you're not going to do this year for your birthday:
You're not going to settle for a boring night out with flat beer and mediocre nachos
You're not going to grab a cake from the supermarket and hang a few balloons in your house
You're not going to say "it's not big deal, we don't have to do anything special…"
Nope! None of that! Instead, this year you're going to experience a birthday party that's fitting of the person you've become. A birthday experience like no other birthday experience in all of Boston.
(Oh, and if you're reading this and you're the significant other of someone who has a birthday coming up, you have absolutely hit the jackpot.)
You can send out that group text, but instead of telling all of your friends and relatives which humdrum restaurant you're meeting at, you're going to tell them it's time to rock out. That's right: for your adult birthday party this year, you're going to have a battle of the bands.
Happy birthday to you, you've just scored your next birthday party at Musicians Playground. Read on to see why this will be the most rocking birthday party you've ever had.
The New Trend In Birthday Events – A Battle of the Bands Birthday Party!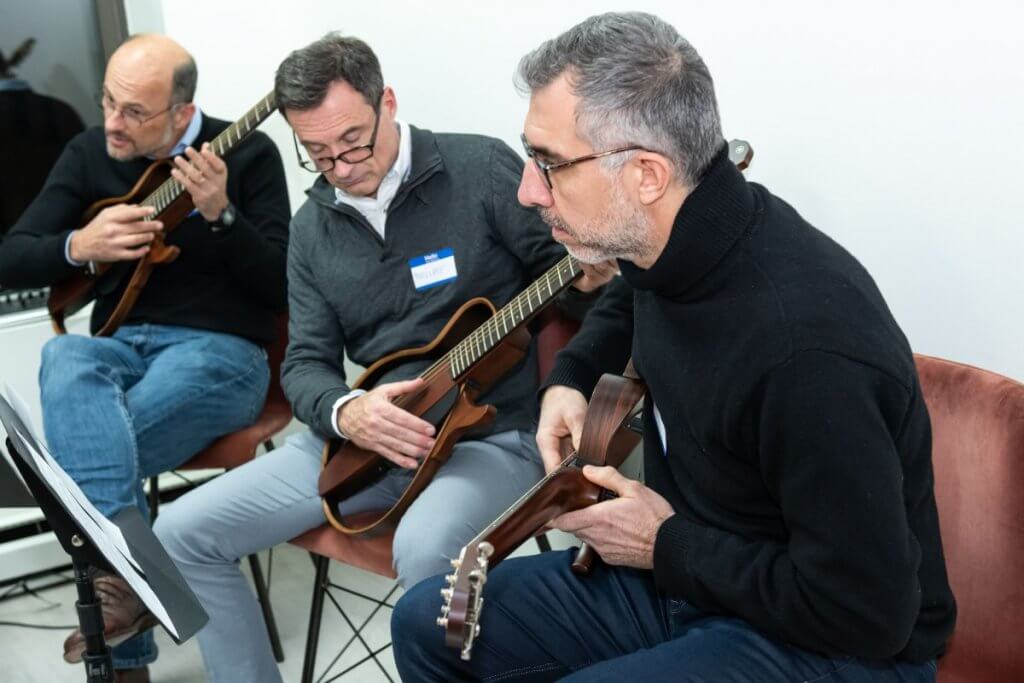 Here at Musicians Playground, we believe in the transformative power of music. In addition to that, we love having a good time. So what do you get when you mash those two things together? You guessed it– a party breaks out. With our Battle of the Bands birthday parties, you and your group will experience fun, collaboration, and a connection that only music can create!
When you choose the Musicians Playground Battle of the Bands birthday party, you'll not only experience a unique experience that is a ton of fun, but that even has some wellbeing benefits (which we'll dive into shortly).
When it comes to birthday parties, one of the fastest-growing trends is connecting through a group music experience. This trend is also growing so rapidly here in Boston largely in part to Musicians Playground's smash hit, the Battle of the Bands birthday party experience. With our top-of-the-line equipment, our charismatic expert trainers, and our gorgeous space, having a music-focused, battle of the bands birthday party is easier than ever.
Now, let's talk about all the fun you're going to have, and how our Battle of the Bands parties work.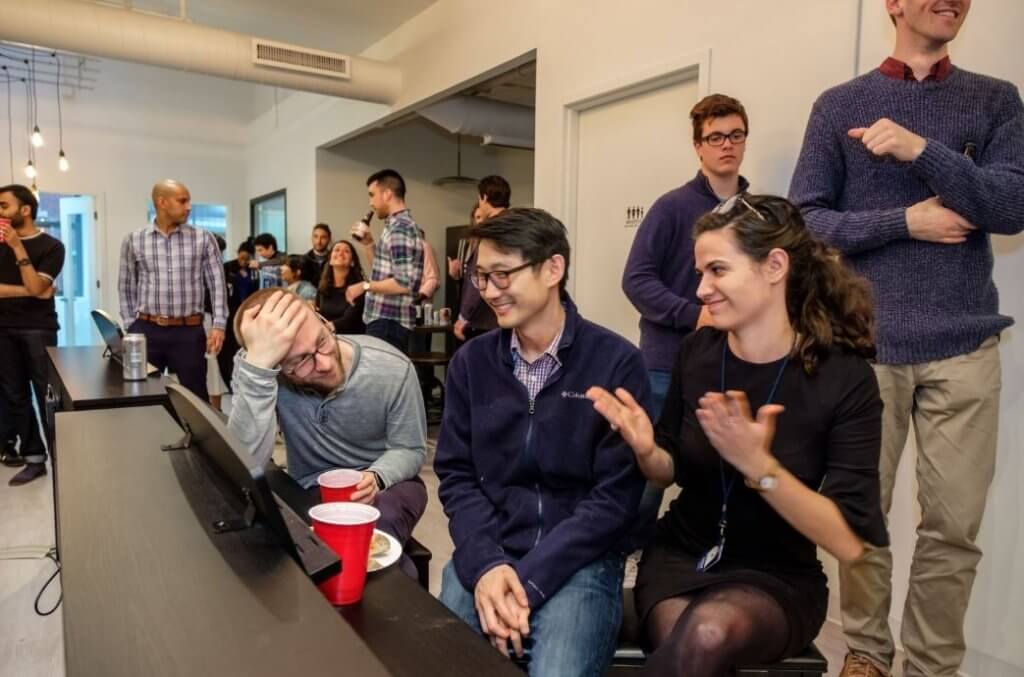 How Our Battle of the Bands Birthday Party Experience Works
Okay, so first things first, as we mentioned earlier, no one attending your birthday party needs to have any musical experience at all. Even those folks who believe they don't have a musical bone in their body will surprise themselves at your party. You can rest assured that we've built the Battle of the Bands birthday party experience so that everyone in attendance can have a great time and make some memories.
A Fun, Collaborative Musical Experience for You and Your Guests
Our Battle of the Bands birthday party experience is built on the framework of our award-winning and interactive corporate musical team-building experience but tuned to feel more celebratory and festive.
The bottom line is this: in just two short hours, we'll transform everyone in your party group into the best amateur band of all time. Together, you'll make incredible memories you learn and play a hit song. Sound unbelievable? Well, prepare to be amazed.
You and your guests can choose the instruments that interest you most, and we'll take it from there. Our coaches are the best music instructors in Boston. Not only do they know how to work with people of all types and skill levels– but they are great at having FUN. They know how to take any fun-loving party group and turn them into rockstars.
Instruction in Many Fun Genres and Styles of Music
This is where the party really gets going. No matter what your tastes in music are, we've got a wide selection of many fun genres and styles of music that you can learn. And if you just thought "Wait, am I going to have to learn a whole song?", we're asking you to trust us on that one. It's like karaoke night on a whole other level.
Here at Musicians Playground, we've mastered the art of the music instruction-themed birthday party. We know how to tailor the experience to your group, and trust us when we say: it will feel like you learned a whole song. Prepare to be a birthday rock star.
Experience a Variety of Vocals and Instruments
This is the fun part. At this point, our team will randomly assign you an instrument, allowing you to really stretch your creative muscles. Here at Musicians Playground we offer the following instrument options for our birthday parties:
Singing/Vocals
Guitar
Piano
Ukelele
We want to emphasize again that no matter your skill level, we can help you find an instrument that you're comfortable with, and that will be fun during the party.
Top of the Line Instruments
Have you ever gone to a roller rink, only to get the oldest, smelliest pair of skates in the building? The things don't fit, and the stoppers are worn down to nubs? It totally ruins your fun, doesn't it? It sure does (and we've all been there).
Well at Musicians Playground, you won't have to worry about that sort of thing at all. When you come to one of our private parties for your birthday, you and your guests will be using top-of-the-line instruments and technology. This will maximize your enjoyment, and also help everyone in attendance sound their best.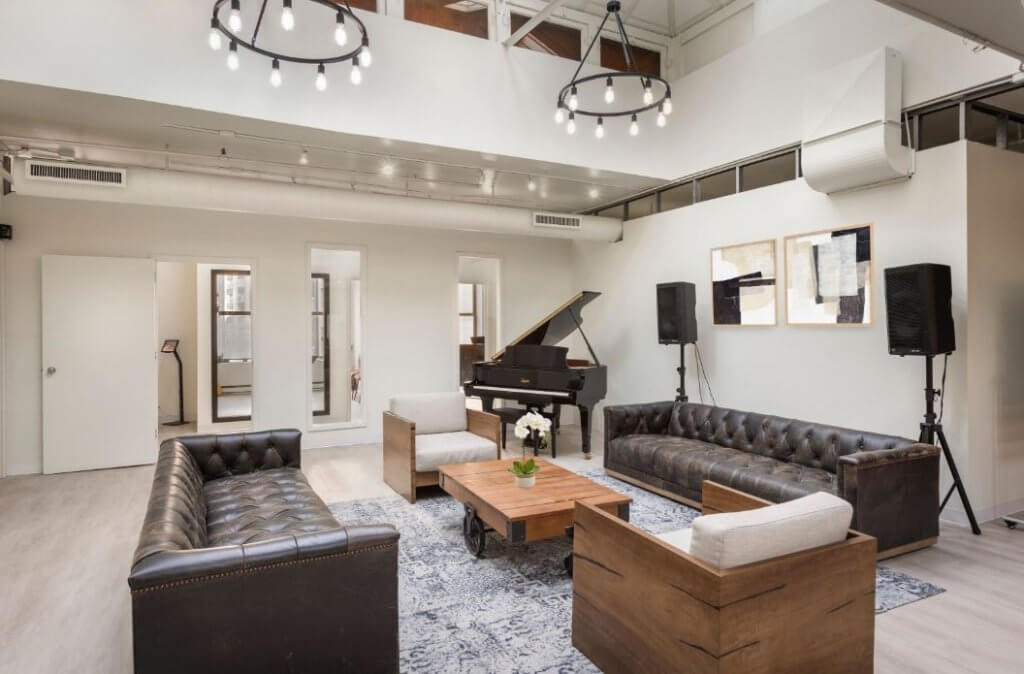 Why a Musically Connected, Battle of the Bands Party is Better
When we say that having a musically-charged, Battle of the Bands as your adult birthday party is better, we don't strictly mean that as a matter of opinion– we mean it as a matter of fact. There truly are some benefits to playing music that are literally better than if you just went out and sat at dinner.
Here are some of the things that you'll experience at one of our music-centered Battle of the Bands birthday parties:
Self Expression: One of the most fulfilling and pure ways to express oneself is through music. Anyone at the party will musically express themselves in a unique and deeper way than what is possible chatting over a plate of pasta.
A Wake-Up Call to the Brain: The science is in– music lets us use the left and right sides of the brain all at once. This means playing music causes a stirring in the brain that allows these two sides to work together in a unique way. This often leads to better problem solving and inventive ways of thinking. (And after a while, the effects stick with you even after you're done).
Low-Pressure Enjoyment: Let's face it, we're all busier than ever. We've got things to do, responsibilities to take care of, and a seemingly small amount of time to fit it into. When we play music for the fun of it, it can be a pressure release valve of the everyday life tendencies to "optimize." When you play music for the unbridled pleasure of it, it can bring mental peace (and some studies even liken playing music to a form of meditation).
The more you play music, the more we can see these benefits taking effect. So while you'll only be scratching the surface during your birthday party, you'll still feel some measure of the results (and it'll sure beat eating a piece of stale cake in your apartment).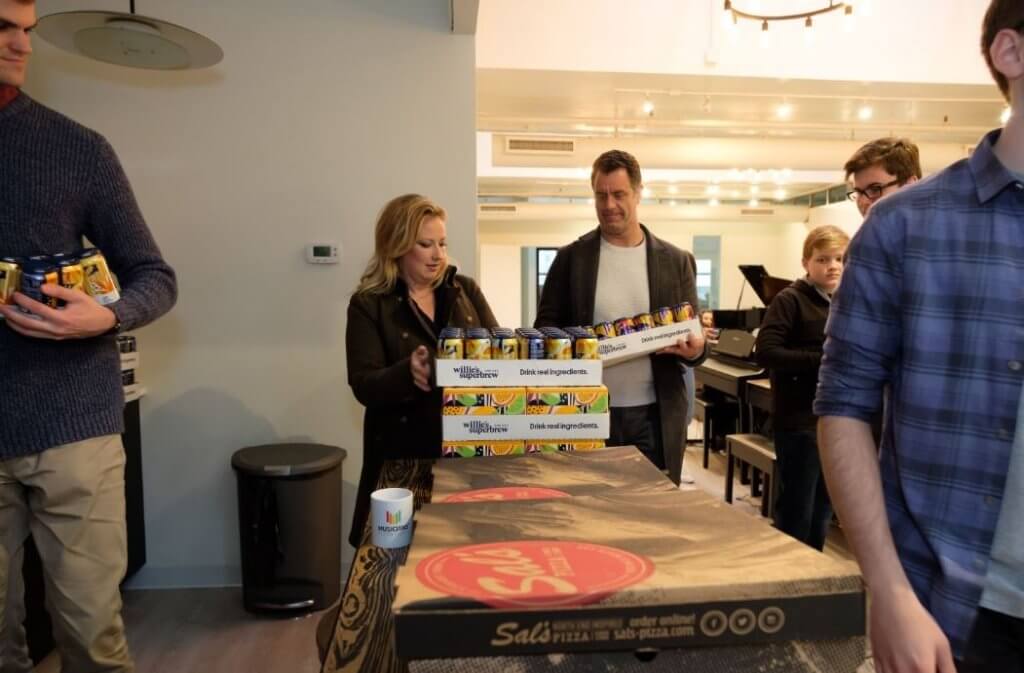 We hit on this earlier, but the truth is, as adults it can be easy to slip into the same old routine for your birthday party. When you come to Musicians Playground, you're taking a step toward making your birthday feel special. Don't just go with the flow. Instead, shake off the dust, and decide to try something new and exciting to enjoy your birthday in a new way.
No matter what your musical skill level is (and the skill level of anyone attending), your experience will be unlike any other birthday you've had– and frankly, we think you deserve it. Think of it as Rock Band or Guitar Hero, but in real life!
Expand Your Creativity – Even More Fun Event Options
Birthday parties are just one of the ways that you can take advantage of our expert instructors, gorgeous space, and group music lessons. If you're looking for a special, memorable event, here are some other events that would be perfect to host at Musicians Playground.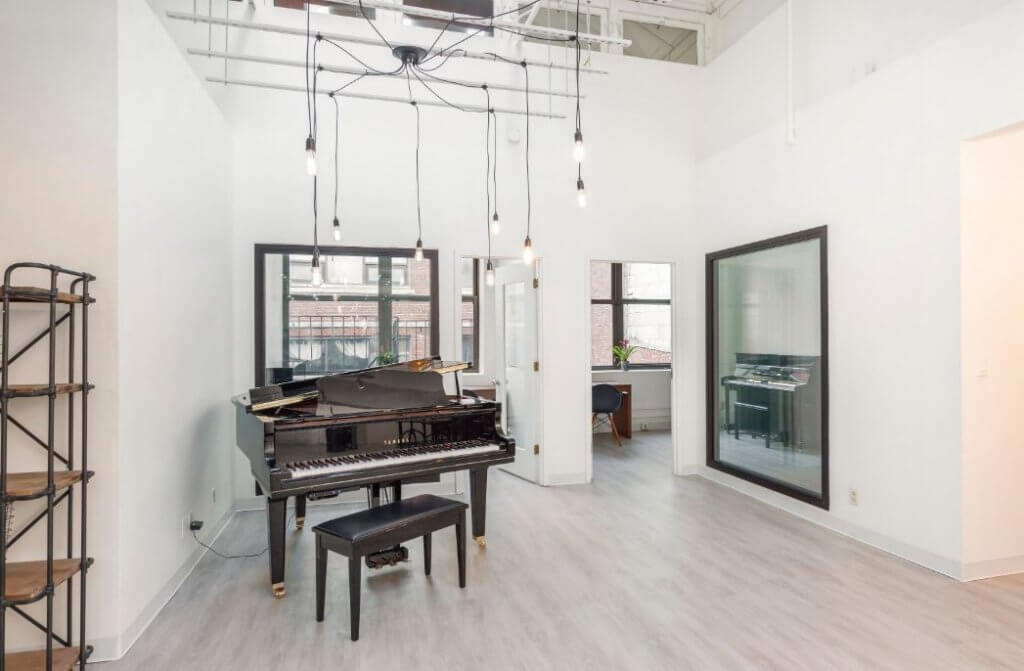 Music Lessons for Any Occasion
Musicians Playground isn't just at the top of the list when it comes to unique birthday party venues. When you're searching for venues for events of all kinds you might not think of the Musicians Playground space– but if that's the case, you're missing out on an incredible space.
Wedding Receptions
We have carefully decorated and curated every part of our downtown Boston space to create the perfect environment for celebration, and what can give more cause to celebrate than the joining of two people in marriage? If you're looking for a unique, stylish, modern place to host your small wedding reception, then Musicians Playground is perfect. We'd love to take you on a tour so you can envision your big day.
Showers
Hosting a private party in our space is the perfect way to celebrate someone who's expecting or about to tie the knot. Our rooms are spacious, beautiful, and would be perfect for any games, events, or other shower activities. We'll provide you with a lovely, inviting space to make memories that you'll never forget.
Bachelor and Bachelorette Parties
If you're looking for a memorable experience before you tie the knot, Musicians Playground would be honored to host you and your squad. Prepare to have an amazing, private night in our swanky, upscale, and spacious location. Set up for any sorts of shenanigans as you celebrate the bride or groom on their last night of freedom before their big day.
Corporate Events
There's nothing that can bring your team together like the bonding power of music. We have a tested team-building event that your crew won't think is boring or lame. Let your team express and surprise themselves with how much fun they have– and how closely they grow together. You can read a full, in-depth article about our corporate events here.
Retreats
Are you looking for a space that really feels like a retreat? Here at Musicians Playground, our facilities feel like a home away from home and were designed to be inspirational and transformative. When you choose to have a retreat in our space you can rest assured that our various rooms will inspire focus and creativity.
Options For Kids
Though this article focuses on our adult birthday party packages, we also have some incredible options for kid's birthday parties that are centered around music lessons. If you're looking for a unique experience for your child's birthday party (and are looking for something more interesting than what's typical for kids birthday parties) Musicians Playground might be perfect for you.
Also, whether music is involved or not, if you're looking for a unique location to decorate in fun ways for your next child's birthday party, you've found the perfect place.
Purchase Options and Instruction Plans
If you're looking to book one of our spaces, we'd love to talk. The process is simple, and we're excited to guide you along the way. Give us a call or book a time here and we can start planning the next steps of your event.
Some of you you may have started out browsing our site looking for a place to have an adult birthday party (or another event) but had your interest piqued. You noticed that we don't just do parties and events. We also offer music lessons to people just like you. Is that you?
Here at Musicians Playground, we believe that you can be transformed through the power of music, and we aspire to help people connect, create, and collaborate. In our experience, we've learned that through music, anything is possible, and we'd love to show you how.
If you're interested in one of our instruction plans, contact us now– we'd love to talk about how we can begin your journey toward discovering music.
Looking for the Best Birthday Party in Boston?
As you can see, no matter what type of shindig or soiree you have planned, Musicians Playground is a great choice when it comes to unique birthday party spots in Boston.
We absolutely love music, and believe that learning it should be social, fun, and even transformative. That philosophy is found in everything that we do– including our events.
Additionally, whether you're having your adult birthday party here, or renting out our location for another event or party, we guarantee you the absolute best-in-class when it comes to customer service.
From the moment we meet you, your happiness and success are the top priorities for our team. We'll guide you throughout your booking process, starting with a thorough, exploratory consultation. From there, we'll have periodic follow-ups leading up to your event, and a dedicated manager will connect with you to ensure your event goes off without a hitch.
Welcome to Musicians Playground, where we know how to party. Let's talk about your event today. Call us or schedule a time to talk using our Calendly link.