Blog
Understanding The Musicians Playground Ecosystem: Choose The Right Program For You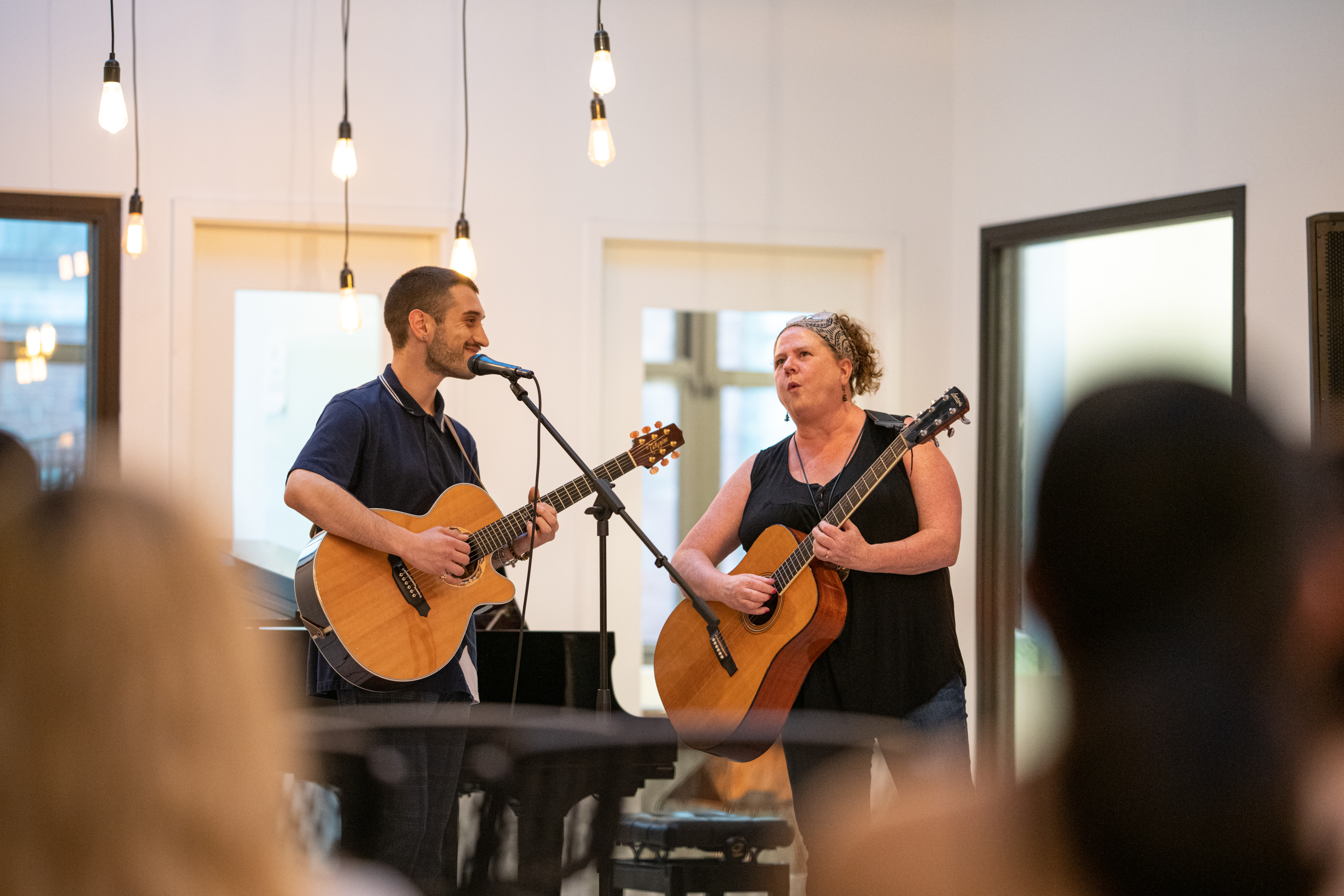 Located in Downtown Boston, Musicians Playground is not like other music schools – we are first and foremost a club for music lovers. We believe that music builds community and that it should be fun and transformative – That's why we offer membership-based programs that give musicians of all ages and levels access to private music lessons, group classes, community events, performance opportunities, modern amenities, premium quality instruments, and the best teachers and learning resources. Sounds like a lot, right? We know!
Our learning ecosystem is quite unique and has been growing for over a decade, so our many options may be overwhelming if you're a new member (or an MP veteran looking to mix things up). You might need a little guidance to get you matched with the programs you'll benefit from the most, but fear not – we're here to help and hopefully, by the end of this article, you'll find answers to any questions you might have.
Step 1: Determine Your Learning Style
Your journey begins with introspection. Understanding how you like to learn is vital in optimizing the benefits you reap from your music lessons at Musicians Playground. Identify your learner type based on the following:
Skill Level – Whether you're an absolute beginner or a more advanced student, we have something for everyone. All of our programs are carefully designed with beginners in mind, but we have leveling options available for all skill levels. Go at your own pace!

Learning Goals – Musicians Playground is 100% for music hobbyists, and our programming reflects this. We're a great place for students who wish to explore different instruments, create, and even perform down the line in front of a supportive community at our Happy Hour Events and our Kids Showcases!

Time Commitment – We take into account the busy schedules of our clients, so we offer a flexible learning schedule to suit your availability. We also believe that the lesson is the practice, so there's no pressure to put in hours outside of the studio and the in-lesson focus is on a fun, low-stakes learning experience.

Learning Preference – Do you thrive by working with one on one a teacher? Or do you prefer to play with a group? Our diverse options accommodate both styles.
Step 2: Know What's Happening In The Studio
Now that you have a better idea of what kind of student you are and what you hope to gain from your music lessons, let's review the different classes and events we have at Musicians Playground, and what we do in each:
Private Lessons:
What we initially think of when we hear "music lesson". These involve one on one work with a teacher on a specific instrument (we offer voice, guitar, and piano lessons) and are a great place to train your ears, foster creativity, build confidence, appreciate repertoire, and develop your musical skills in a personalized format.
Group Lessons:
These are our favorite classes because we are all about music as a community builder. Group lessons are by far the most social and fun learning opportunity, as they are a great way to meet friends and make music together. Across all instruments, we have three types of group lessons at Musicians Playground:
Band Class: The purpose of band class is to provide our learners with the opportunity to not only learn and play a new hit song every 6 weeks but also give them the chance to play in both big and small bands. It is the only class at MP where such collaboration takes place across all instruments (piano, guitar, and voice) and that's what makes it so special. Repertoire selection will vary in both style and technical skills we work on throughout the year to keep the learning holistic, so this class is the perfect choice for anyone who is looking for experience playing in a band setting, to meet new people from other departments, or to learn new and varied music every 6 weeks.

Piano/Guitar/Vocal Hits: This class is similar to Band Class, though it is less focused on collaboration between departments. Instead, the instructor will be teaching techniques specific to the instrument (piano solo techniques for piano, for example) as you learn to play hits in various genres over the 6-week cycle. The repertoire will consist of many styles, so we will be cultivating different approaches and skills required to play modern hits across the year. Open to all levels.

Labs: This semi-private class is essentially a guided practice and is offered for guitar, piano, and voice. Participants are required to bring whatever materials they are working on, and the teachers split their time evenly across all the participants – stepping in and supporting them in their learning by providing a framework for them to work from in order to reach their goals. Labs are a great place for students to share what they've been working on with others, but our unique lab systems (for guitar and piano) also allow students to isolate themselves with their headphones (as well as their teacher) to create the feel of a private lesson in a group setting. Labs are open to all genres and skill levels.
Across all of the group classes, instructors make time for participants to share their accomplishments with the other people in the room, as well as fun partner or group exercises to keep the community building strong.
If you can't make all of the band/hits classes in a cycle, don't worry – you won't fall behind. Over the six-week cycle, we learn different sections of the song each week, piecing them together at the end. If you miss a class and want to catch up, we recommend attending one of the labs to fill in the blanks of what you missed, but even so, it's not necessary – you can advance in tecnique even by learning just one part of a piece.
Open Practice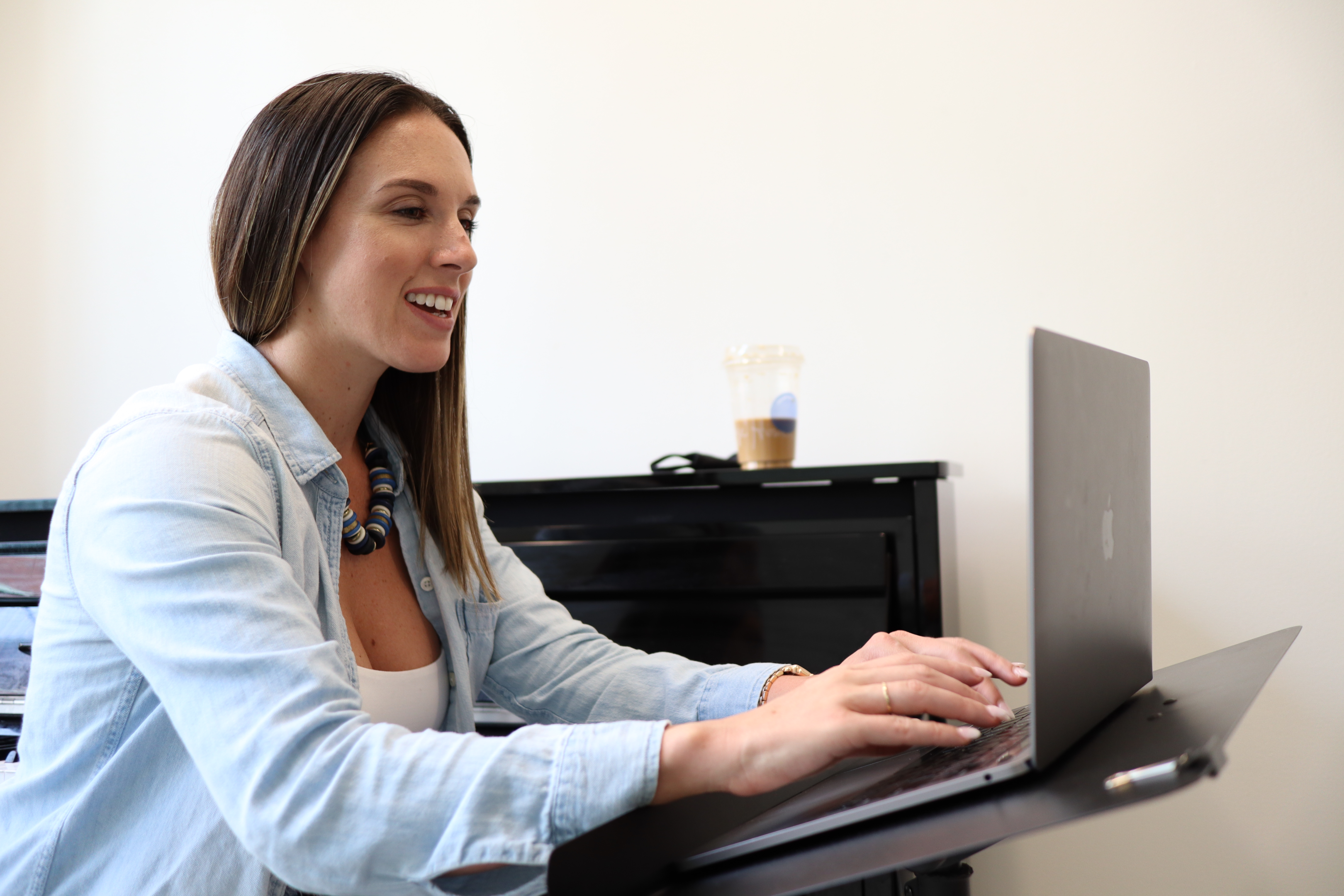 With open practice, Members have access to our space during our open hours to get additional playing time on their instrument, or for other work needs unrelated to Musicians Playground – phone calls, zoom meetings, etc. This time can be booked through our calendar (or by making sure with our team members that the hour is open) and is self-led. We want MP to feel like a home away from home, so members are welcome to use our facilities as a comfortable coworking space in the heart of Boston. This is a great solution, too, for musicians who do not have a keyboard or piano at home to play on.
Why Learn Music The MP Way?
The Musicians Playground ecosystem is not your conventional music learning environment. It's a space where exploration is encouraged, creativity is nurtured, and learning is fun. With our approach:
You're Free To Explore: You don't have to commit to one instrument, you can try all of them! For example, in a month where you take 4 weekly private lessons, you can take 2 piano lessons and 2 voice lessons, and have the best of both worlds. You could also decide down the line that you prefer learning piano, for instance, and schedule only piano lessons for the next month without switching your membership plan.

It's All About The MP Family: Forge friendships, collaborate, and immerse yourself in the communal experience of learning and performing with others.

Practice Without Pressure – Our lessons are the practice, and it's always about progress over perfection. You're welcome to put in more time outside of the studio if you wish, but it's certainly not required.
Step 3: Get To Know Our Membership Plans
We want to offer as much variety and quality as we can with our plans, so our memberships are curated to serve different learning needs. In general, we have two types of memberships – our basic private lesson membership (The Soloist) and our basic group class membership (The Adventurer) – But we also offer upgraded versions as well as miniature versions of each membership, allowing members to intensify them or scale them down as they evolve in their learning and their goals change.
With each of these memberships, members receive all of the group classes and unlimited open practice time at no additional charge – so you don't only take private lessons, you get this additional value and access to our other facilities. At Musicians Playground, we are happy to be able to offer a mixture of one on one learning as well as group learning, as each way has its own benefits and drawbacks. We encourage members to try both.
Let's break these down, and give our recommendations for the type of learner who will benefit the most from each:
The Soloist
This is our private lesson membership. With it, members receive 4 private lessons a month (as well as the additional perks mentioned above.) This membership is by far the most beneficial for the complete beginner: Generally, we find that after three months of weekly hour-long private lessons, one is able to grasp all of the foundational knowledge of an instrument and learn a few simple songs they know and love. after acquiring this foundational knowledge (reading music, finding the notes on the instruments, singing on pitch for example) they are able to transition into the group classes and get much more value out of them. Since group classes are included in this membership at no additional cost, this is ideal.
The private lesson memberships are also great for our late-intermediate to advanced learners, as they will be paired with a coach who will be able to help them with their specific needs and interests. The teaching is completely personalized, with the instructor taking active notes during the lesson and providing the student with programming approaches they can apply outside of lesson time if they desire. The student has total control over style choice and repertoire selection, and the rate of learning (as well as the intensity) is wholly up to them – this is a sure way to fast-track one's progress.
That being said, private lessons are quite a "sterile" environment – they are not as collaborative as group classes, and as a result, some concepts are harder to grasp (improvising, performance experience, continuing through mistakes), and you learn a lower volume of pieces, as we go through them quite fast in a group setting. We also find that with group classes, the foundational aspects of music (playing/singing at sight for example) are learned a lot faster and a lot more readily because you have that support from your peers to motivate you. This is why we include group classes in this membership and urge members to try them out!
Our recommendation:
This membership is excellent for learners on both ends of the spectrum (the complete beginner and the more advanced musician). Beginners should start off with The Soloist for about three months, and then re-assess – should the budget be an issue, they can always downgrade to our group class-only memberships for a valuable learning experience until they reach the intermediate/advanced stage. At this point, The Soloist would become the best fit for them again.
The Adventurer
Our basic group class membership comes with unlimited group classes and open practice time in the studio. If you learn better in a group as opposed to a private lesson, this membership is a good fit for you. It would also be a good fit for you if you want to develop a large repertoire base, or if you are interested in getting exposed to different genres and styles.
In terms of level, late beginner to intermediate learners will get the most value from group lessons, because they will enter them with a pre-existing knowledge of the fundamentals so they won't feel out of their depth, while still being at a beginning stage to learn new concepts and techniques.
Our Recommendation:
At a baseline level, start with at least one group class or one private lesson a week. The next ideal situation for those with a private lesson membership would be to combine at least one group class per week with their private lesson, and for the most intense experience, one could try incorporating multiple group lessons into their weekly schedule with the private lesson.
Our Memberships Are Modular
It's worth noting that these are just the basic versions of our different memberships – both memberships have scaling options that allow you to either intensify them or scale them down according to your goals and needs – if you need details on those, our membership advisors can assist you with finding the right fit for you.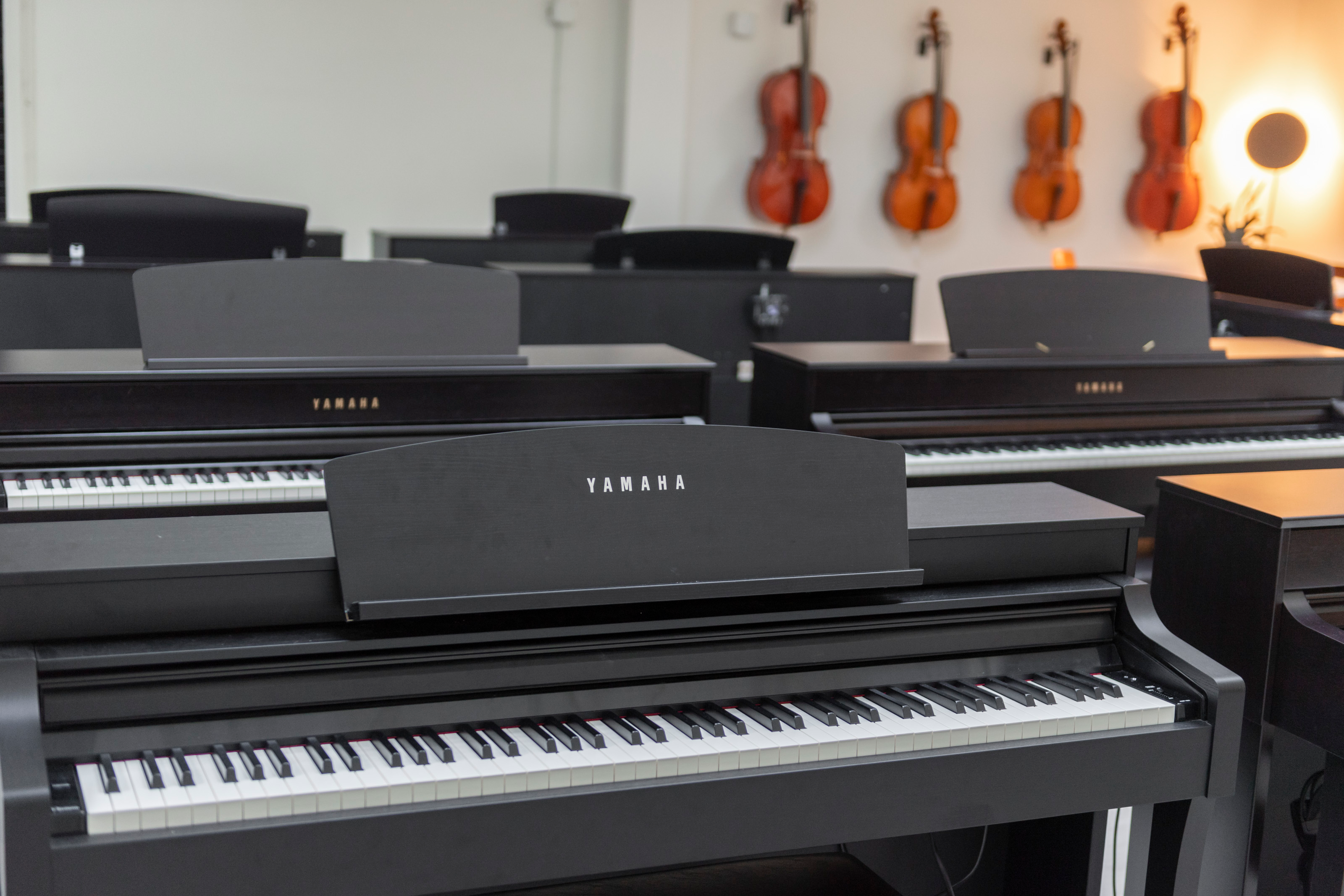 Step 4: Dive Into Music Lessons!
As you can see, we're very proud of our Musicians Playground ecosystem, and the varied options we can offer for both kids and adults to learn, create, explore, and above all – have fun. If you've read this far, it's safe to say that you have caught the music bug, and our quality programming and uniquely trained instructors are here to help you on your journey, regardless of your goals, skill level, or preferred learning style.
If you feel ready to take your first lesson, feel free to reach out to us, and we'll connect you with a membership advisor who will go over the details with you. You can do that by visiting this link.
Join The MP Fam!
In the meantime, if you liked this article, we put out educational content monthly on our Musicians Playground Newsletter – consider signing up to our mailing list to get all the updates on the studio's upcoming events and latest news. Happy music-making!