Blog
Expression Through Song: Creating Your Better Self With Music Lessons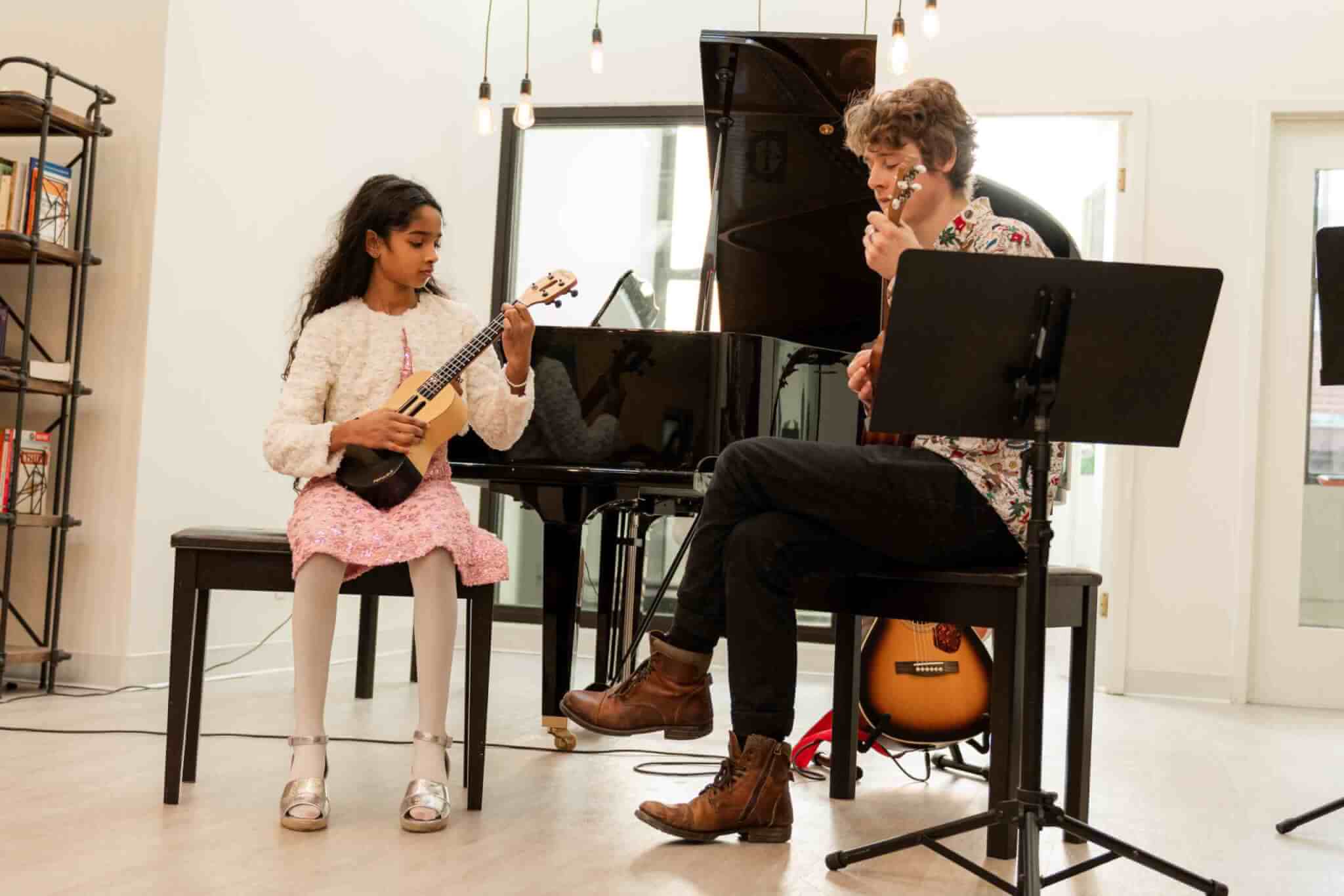 March 29, 2022
0 Comments
Why A Customized Music Program Can Help You Live Better
Brené Brown says, "Unused creativity is not benign." In other words, the unused creative energy inside of you if it isn't put to use, can end up being released as nervous energy instead. Here at Musicians Playground, we believe that music is one of the most powerful ways to release creative energy in a fun and meaningful way. Whether you're a skilled musician, hobbyist, or a beginner – and no matter your age – we want to show you how the best music instruction program can help you live your best life.
The best part of a personalized music program is that they apply to people of all ages, walks of life, and personalities. People of all backgrounds will experience a tremendous amount of personal growth through music lessons… especially if they find the right music program.
Whether you're an adult looking for a meaningful creative outlet or a parent looking to provide a fun activity for your little one (or yourself!), let us show you how music lessons can change your life for the better.
Music as the Expression of Who You Are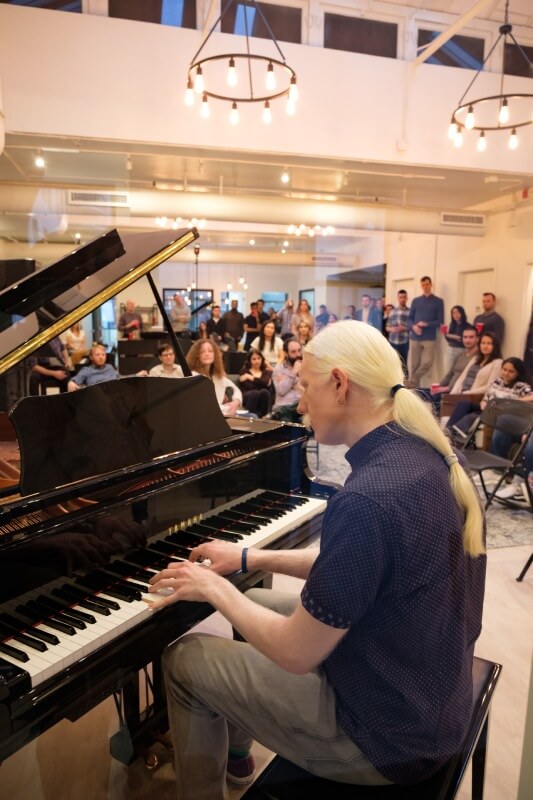 One of the most overlooked benefits of learning music is expressing yourself like never before.
While the emotional effects of bettering yourself with music lessons are harder to measure, they are arguably some of the most important. The sense of accomplishment that comes with improving on an instrument with hard-won practice is unlike any other.
Music has also been proven to build overall EQ. This is also known as 'emotional intelligence'. It can also help you in your ability to understand, use, and manage your own emotions in positive ways.
This allows us to be able to identify and process feelings faster and reach higher levels of emotional maturity. If you often experience feelings of emptiness and a lack of fulfillment, music is an incredible tool to fill that void and feel more balanced and happy.
By making music part of your life you can improve relationships, be a better leader to a team, and have a more productive work, school, or home life. Music instruction also improves leadership qualities and self-confidence, as discussed in this recent Forbes article.
Many of our students find great joy in exploring and learning about the musical genres that have the most meaning to them. It lets them find a new appreciation for the types of music they already love so much.
Another form of expression that can be super exciting is the art of performing. There's nothing quite like learning and rehearsing a piece, to then get up in front of an audience and show them the fruits of your hard work. Performing in front of others musically can also improve your confidence and social skills in other settings too.
Overall, music is a holistic activity that will help you "work out" and strengthen and develop virtually any aspect of your mind and soul. Just like the gym is a place to work out your body. It's a beautiful method of expression that can help you grow emotionally as a human being.
How Does Music Help?
The Benefits of Interactive Music Instruction
Anyone can learn music, and anyone who engages in music lessons can appreciate the many benefits it has to offer.
Learning music at any stage is a powerful tool for self-development. It's been proven that it has emotional, mental, and physical effects (whether you're learning a musical instrument or taking voice lessons).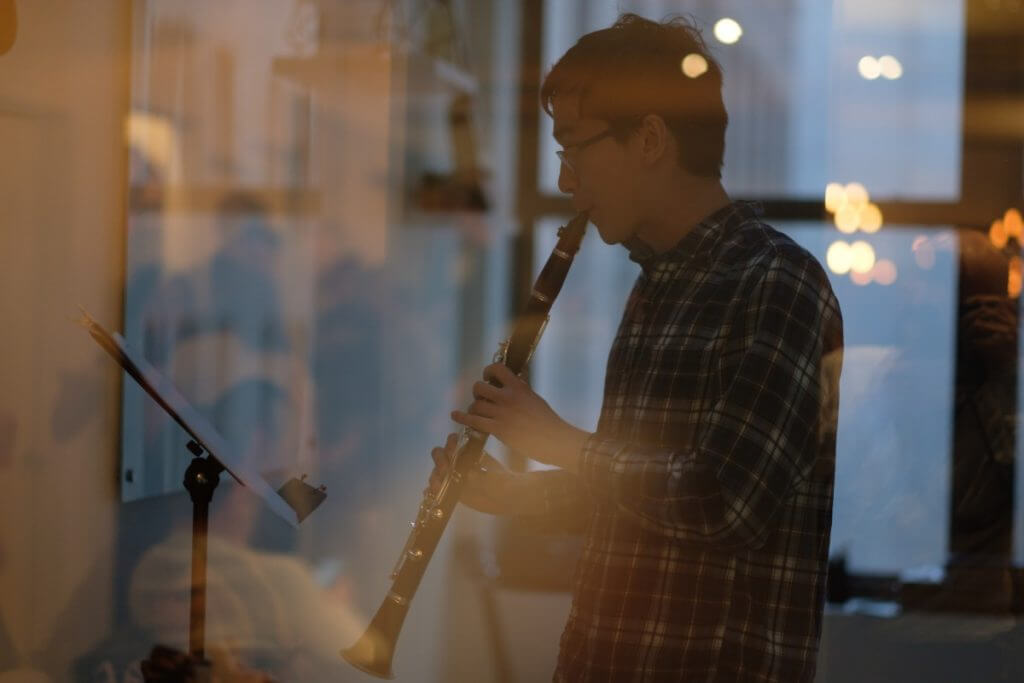 Did you know that playing music has often been described as similar to meditation? A recent article over at Quartz.com talks about how Neuroscience shows listening to music has kind of the same effect as meditation, comparing music to types of mindfulness meditation. The effects of music on neurological health are obvious, especially when combined with a healthy lifestyle. Music instruction is one of the many ways that the healing power of music can be explored.
Let's start with just some of the most practical mindfulness benefits of learning music:
Improved Mood
The process of music instruction promotes endorphins in the brain. Those endorphins relax us, cleanse the body and brain of cortisol (stress hormones), and generally elevates your mood. When we have lower brain cortisol, you'll start to notice benefits such as increased and prolonged focus at work or school. The space that you, your music teacher, and your fellow students create will be a space free of stress and an island of fun and creativity, far away from the challenges of work and home life.
Think about the things that can improve your mood that move your entire body. Belly laughing, erupting into applause after a powerful performance, or even jumping to your feet at a sports event to cheer. These joyous moments are almost involuntary because we're moved so deeply in a positive way. Eventually, you'll experience that same mood-improving expression of your own body through playing music. You'll find yourself tapping your feet, nodding your head, and sometimes moving your entire body as you're moved by the songs you play. These moments are food for the soul and can improve the lowest of moods.
Left and Right Brain Integration
While being vigilant and organized can be a necessary way of getting through our busy schedules, it can also cause imbalances between the left and right brain. When we constantly strive for efficiency (which is all analytical left brain), we're not using our whole selves. In the wake of this our right brain can become weaker. A recent article published by Vanderbilt University discusses this in depth.
That's where learning music comes in. Music is an amazing form of art – it's one of the few things we can do outside of Zen meditation that activates all areas of the brain at once. In fact, music has been shown to give some of the same benefits of Zen meditation! Pretty cool- right?
When you play music and train your brain to use both the left and right sides together, the effects don't end when you put down your instrument. The more you train your brain to work as a whole, the more those benefits will begin to improve your everyday life. The way you solve problems will change, and you'll often find new and inventive ways of being productive and efficient which can really be felt at school or at work.
Overall, music has many benefits that will affect several other areas of your day-to-day life. One of the absolute best ways to learn to play music is with personalized music lessons with the right teacher.
Your Serene Space Of Joyous Sound
Music instruction can provide you with a personal stress-free space where the only thing that matters is your creativity and self-expression. In this way, music can be an amazing form of meditation that provides clarity, focus, and peace of mind.
Excellent music studios and instructors offer non-judgmental atmospheres for musical development. It's not the landmarks made or performance attained, but the personal journey in the exploration of music that should matter.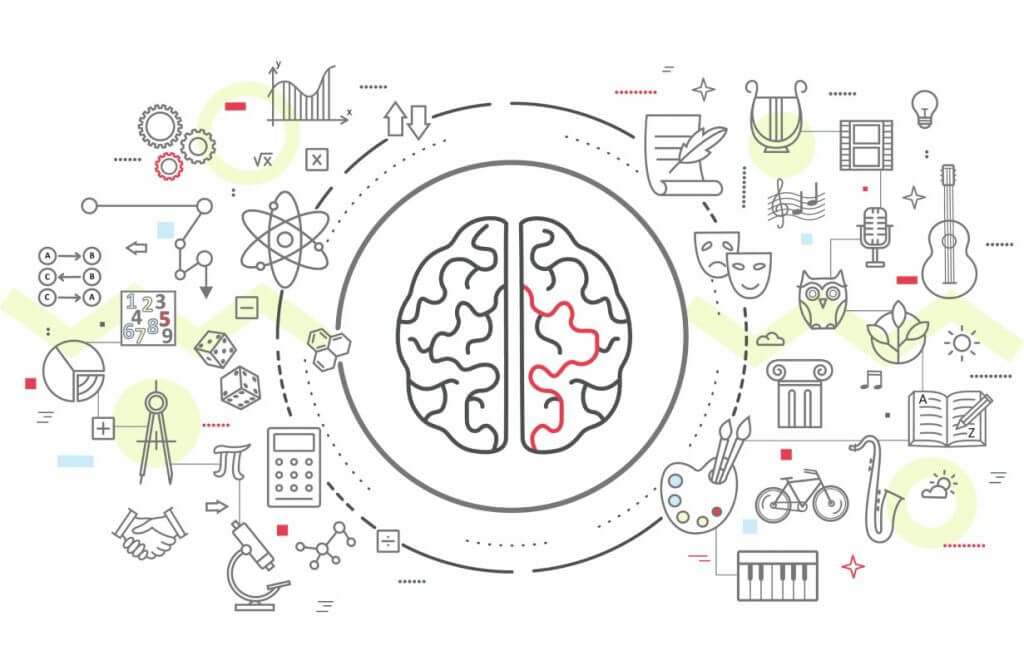 When you apply the knowledge you've learned of things like music theory, notes, scales, keys, melody, and so on, and pair it with things like the emotional portions of the right brain, the result is downright magical. In fact, in a study conducted by the University of Toronto, learning to play music was even linked to improving overall mental acuity, and in some cases increasing the IQ.
Music Teachers and Why They Are Important
Once you've decided that you want to experience the benefits of playing music, you need to start with the first step: learning how to play music. If you are like many people, you likely don't have any earthly idea where to start. Don't worry! We understand it can be overwhelming and our specialty here at Musicians Playground is to help people just like you find the perfect path toward your musical goals.
Now more than ever there is an abundance of choices when it comes to going about learning an instrument. In fact, it's arguable that we're in an era of information overload, and with so many choices of all kinds, it can be overwhelming to know what is right for you. Should you:
Take a chance on a YouTube channel or someone's Patreon?
Subscribe to a website or buy an online course?
Download a music instruction app?
Learn from a friend, relative, or neighbor?
Buy that guitar book?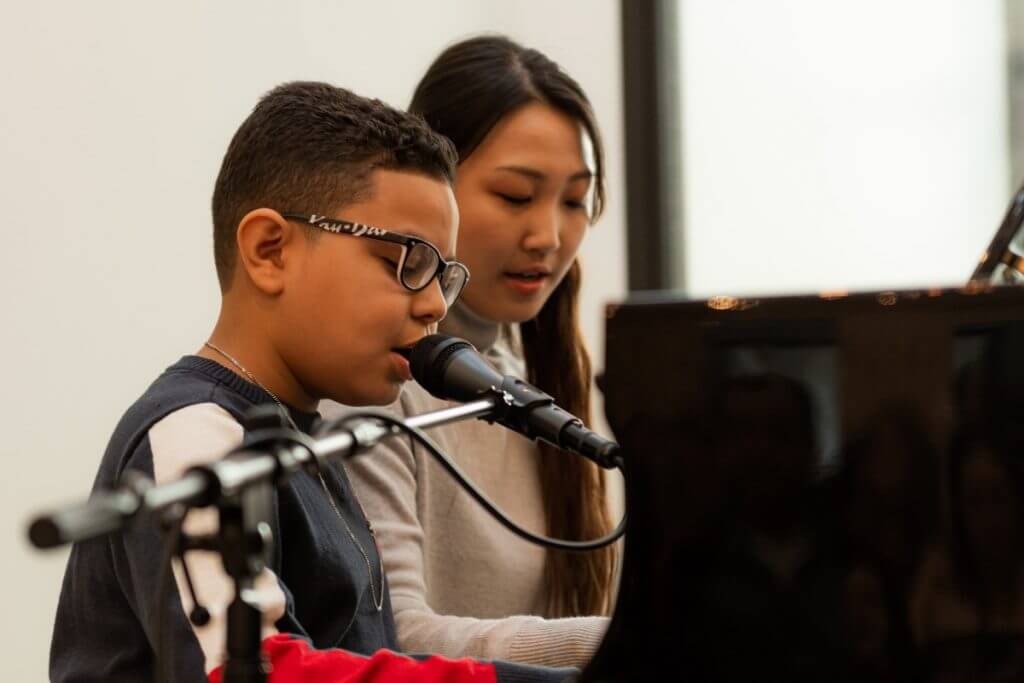 In this digital age, we're all drowning in choices. As a student, you no longer have to go out and seek a qualified instructor who has proven themselves to be a skilled teacher. Instead, anyone and everyone is making content on various digital and social media platforms. The barrier of entry is actually scarily low. There are plenty of people putting out piano lessons, guitar lessons, singing lessons, ukulele lessons, and even writing music instructions online.
There's so much content that it can feel impossible to find the perfect teacher for your musical journey. It's not only overwhelming, but your search results are more than likely going to be skewed. When you're searching online for lessons, you're at the mercy of algorithms and online signals such as likes, views, and comments. Typically, at the top of these lists are people with no guaranteed qualifications other than their popularity.
Not only that but often when people decide to take the plunge and start learning an instrument they can be easily swayed by the shiniest object. It's only human to be compelled by "learn quick" or "shortcut" systems. These are almost always a trap and the end results leave a lot to be desired – the student success rates on these programs are typically very low.
No matter what method of music lessons you choose, and no matter how many reviews they have, don't forget this: these courses are not curated for you as an individual and that will make it harder for you to succeed.
These online lessons are already built, set in stone, and released to the masses. The instructors aren't ever going to get to know you personally. Everyone learns differently, and we've seen time and time again that when a student is paired with the right instructor. It's not only more intuitive for them, but they also learn faster and get more out of their musical journey.
Not only will these blanket online music lessons never give you the same level of learning as a customized journey, but there also isn't really any sort of accountability. Once you make your purchase or sign up for your subscription, what is going to motivate you to pick up your instrument and practice? There really isn't anything, if we're being honest. In many cases, we've seen so many students get excited, buy or sign up for some sort of digital lessons, and then never put them to use after the first day or two (if that).
At Musicians Playground, your private music instructor will help you curate your own personal musical journey. They'll use their years of experience in individual and group instruction to guide you through the challenges of musical instruction to a place that gives you personal satisfaction and accomplishment.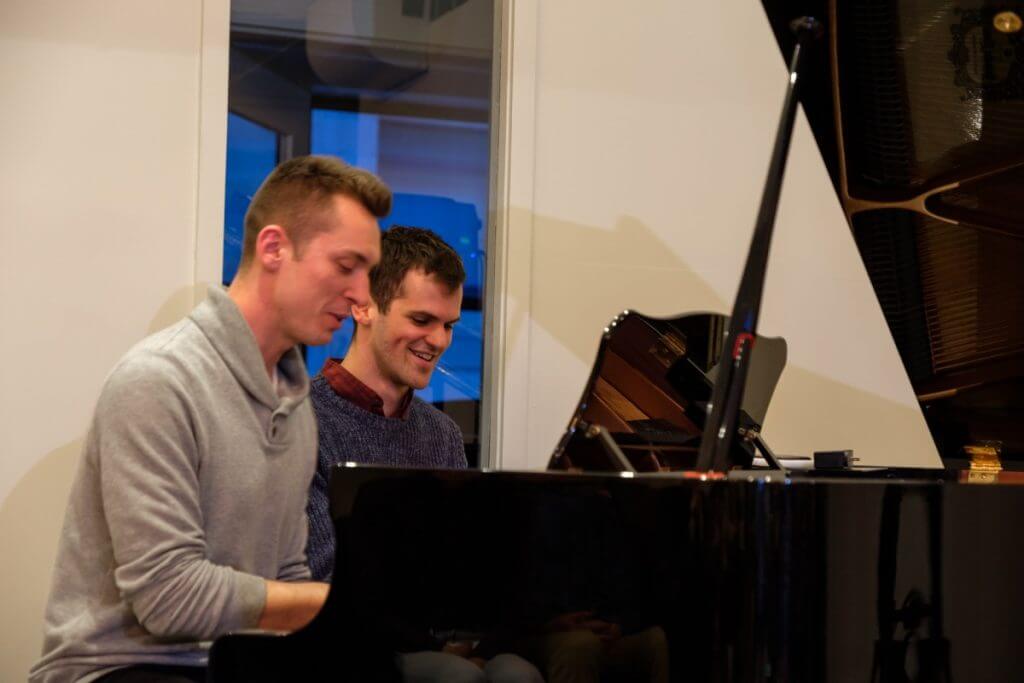 Music Teachers Will Get You Where You Want to Be
Music instructors are proven to be one of the best methods to learn music, and they overcome all of the challenges that other methods suffer from. However, knowing how to choose the perfect music teacher isn't something that the average person knows how to do, even if it seems like a simple task.
No matter what age you are, even the most passionate person can choose the wrong teacher and sabotage their musical journey before they ever have a chance to truly get started. Just like you would trust any other professional for a diagnostic, here at Musicians Playground we have a proven, tested method of pairing students with teachers masterfully to ensure success.
We have the perfect, in-person teacher who will give you personalized, hands-on instruction no matter where you're at in your journey of learning music– you just haven't met each other yet.
When you use one of our instructors, the benefits are many, and the experience will be a tangibly more successful one for you. In addition to learning your exact learning style, they'll also be able to see where you're excelling, and more importantly– where you need to improve. From there, they'll work with you to build the perfect plan to get you where you want to be.
We believe that developing your relationship with your music teacher is one of the keys to your success, and we're excited to get you started on that journey.
But you might be asking yourself: "What makes the Musicians Playground teachers so special?"
That is a good question. Here at Musicians Playground, we have an intensive screening system in place for the hiring of our teachers. We have interviewed hundreds of teachers, and only a small percentage of them meet our standards. The result of this rigorous process is that our students only get the best teachers who are thoroughly equipped to help them meet their goals in a way that's practical, beneficial, and joyful.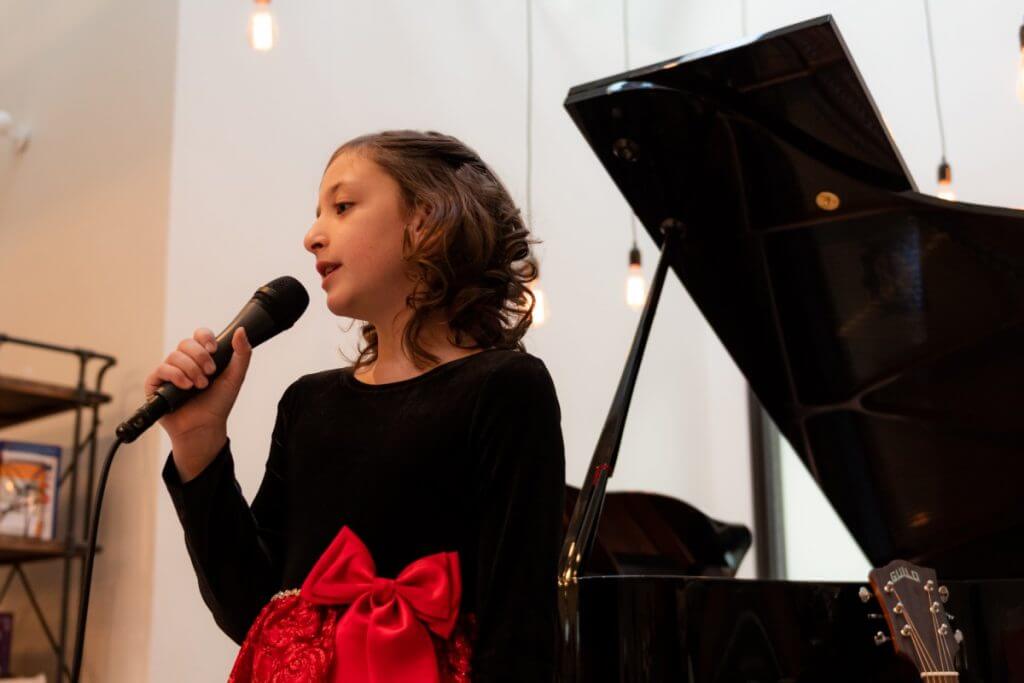 The Quality of Your Results
When choosing the path you're going to take on your musical learning journey, it's also important to weigh price versus quality. No one goes to the cheapest doctor when they're sick… they go to the doctor that can get them the results they need. The same goes for your musical learning journey.
There are various sources of musical learning for "bargain prices", but how can you know what sorts of quality they have to offer? And how can you know you'll get meaningful results?
Musicians Playground is far more than just "music lessons". It's an organization that has many hand-picked, excellently trained, and expert coaches that will get you where you want to be when it comes to your musical goals.
Historically, our teachers will often get you where you want to be in a fraction of the time that other courses would because they can help propel your learning curve. Not only that, but they can do it at a fraction of the cost since you don't have to spend money over and over as you try to find the right course for you.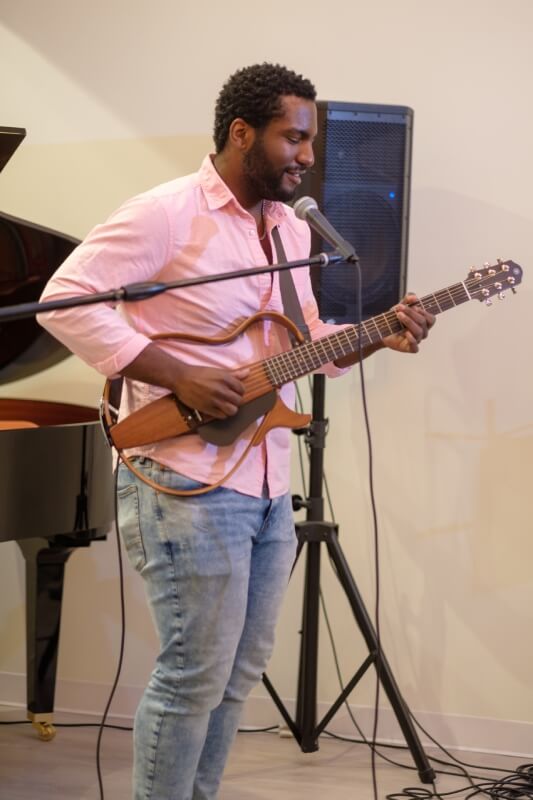 What Kind of Music Program Makes Sense For Me?
We hear it all the time. So many people think that when it comes to learning music that private music lessons are the only way to go. And while for some that might be the case, for other people the experience of group learning makes more sense. Learning music as part of a group is one of the most powerful tools to learn more quickly. Musicians Playground offers both individual and group music classes, online and in-person at our studio space in Boston.
Group learning can be a great option for people who have had good experiences with choral groups, bands, and other group formats. Reach out to us so that we can talk to you about our programs and find a music instruction program that is perfect for you.
Better Yourself at Musicians Playground
Whether you're looking for voice lessons, piano lessons, an expert guitar teacher, or ukulele lessons, we've got you covered! We believe that music is an exercise for the soul, and that you should truly love your musical journey.
Fill out the form on our website, or connect with one of our membership advisors who can help you discover the perfect musical program for you based on your goals and interests. Let's talk today! We can't wait to be a part of your musical journey.