Blog
In Harmony – How Music Lessons Can Help Corporate Team Building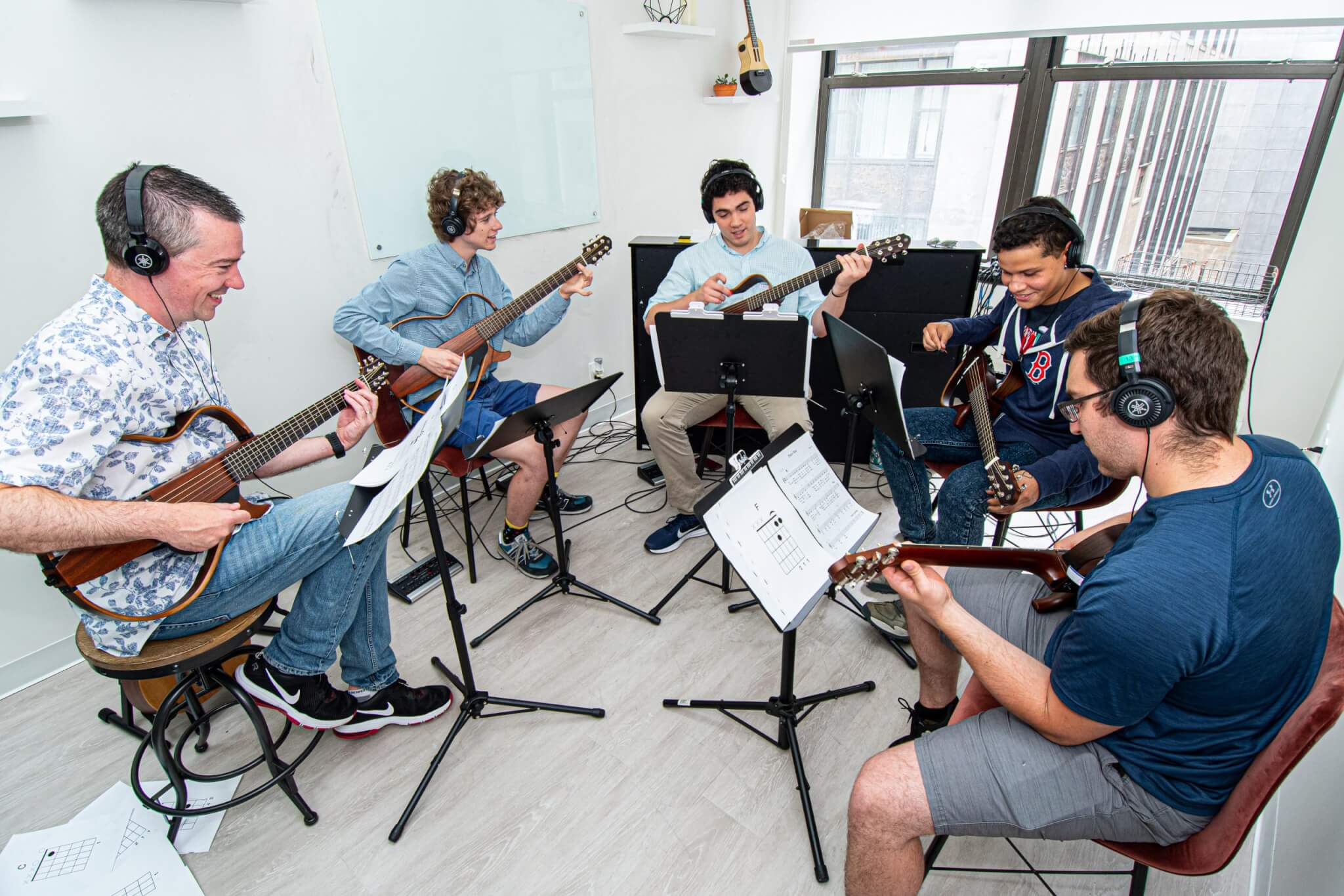 Are you ready for your employees to experience a completely different form of collaboration and become closer than ever? Through the corporate team-building programs at Musicians Playground, you'll get just that!
When you mention the concept of team building, you may hear your employees groan. Maybe you'll get an eye roll (or two… or three). Someone might even start to make references to one of Michael Scott's many failed attempts at team building from The Office. Let's be real: team building doesn't have a great reputation.
But in spite of how easy it is to poke fun, team-building with your organization is one of the best investments you can make for your company. When your employees are at work, they're, well, working.
People have jobs to do, so they don't have much time to interact with one another on a personal level. Team building exercises help your team go beyond small talk to form real bonds and trust with one another. In the end, that reflects in the synergy they'll feel with each other in the office.
When you give your employees the right sorts of opportunities for team building, it can help them be happier in their roles and improve company culture overall. But the key word there is the right sorts of opportunities. So- what exactly is the right kind of team building activity?
Well, let's start with what you definitely don't want to do. Avoid a team building activity that:
Isn't inclusive to all members of your staff
Feels like "another day at the office" camouflaged as a team building event
Allow existing cliques to stay intact
That's where music instruction comes in- it is the perfect team building activity for companies and teams of all kinds.
In this article, we're going to provide some specific creative and professional benefits that only group music instruction can achieve. Let us show you how we can help build your team, relieve their stress, and create a space like no other that promotes personal and professional growth.
Music Instruction as Team Building
A team building event centered around music is one of the most fun and exciting experiences you can offer your team. After all, music is the universally shared language of culture and people. That's why it's one of the best tools you can use to help your team grow closer in a unique and enjoyable way.
We'll go deeper later in the article about how we handle team building activities here at Musicians Playground. But first, let us start by letting you know that no musical experience is necessary for what we do! That's such an important fact that we put it in bold font.
That's right- whether your team members took lessons for years or have never seen an instrument up close, we have a program that is fun and engaging for all. Our proven process works wonders for the teams we work with.
Here are some of the ways that using music for team building is better than the rest.
Harmony And Your Team
Pun fully intended: We all want harmony among our employees. But there's a measure of this that goes beyond your team simply being in agreement. A phrase that's becoming more popular in business is "team harmony."
There isn't a single, catch-all definition for this term. But the gist is that it means that your staff has gone beyond being "just employees", and is truly committed to the company's values, purpose, and approach.
Music by its nature welcomes and promotes harmony. When various individual musical sounds come together to make a single musical idea, it sounds incredible. But, this requires every part to be present and in sync with one another. As you can see, there are some clear parallels between musical harmony and the team harmony you want to achieve for your staff.
Think of an orchestra or ensemble. They're made up of many different instruments that all have a unique sound. When all of these instruments are playing together, each does its part, making a sound that only that unique combination can make. Just like each of your team members, right?
Can you see how a massive orchestra is a perfect analogy for your business? Each person brings their own unique perspective, skills, and experience. This is their "sound" that only their instrument can make. And when your team is in harmony with one another, doing their part, it creates music that no single person could achieve on their own.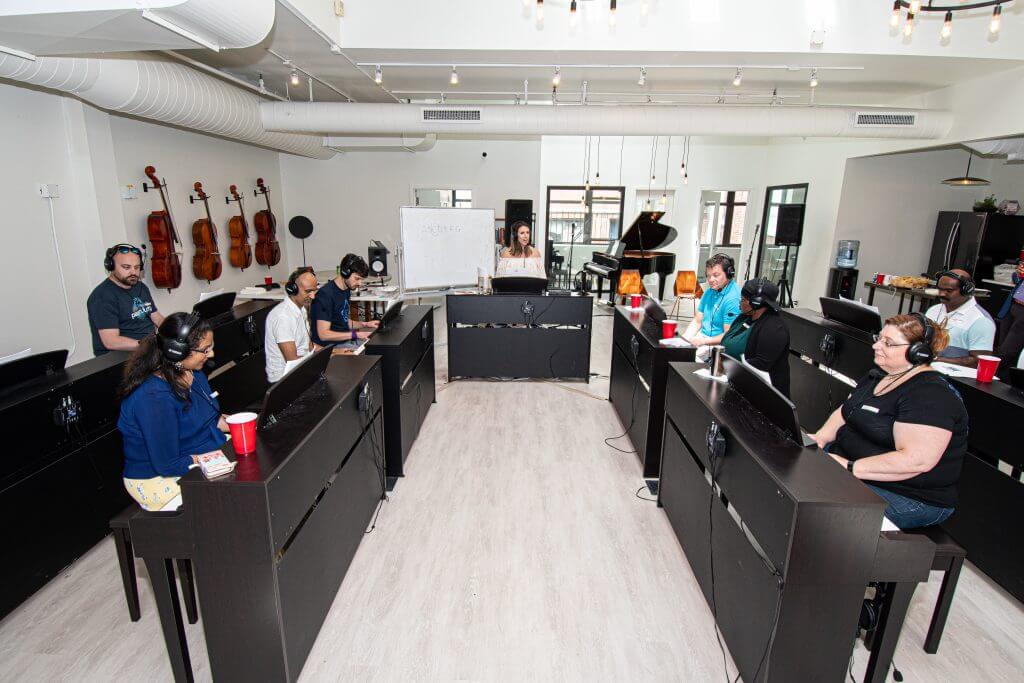 Music as a team building activity takes the concept of emotional harmony and musical harmony and allows your team to experience them together. This is an opportunity for an incredible lesson. Your employees will have to consider some important points that apply to both music and their jobs:
Each instrument (and person) is unique, and can't be replaced by another.
Each instrument (and person) has to flow, cooperate, and listen so they can play their part accurately and well.
No one person can play all the parts by themselves, so teamwork is required.
One person out of tune (or causing disagreement) makes the entire song suffer.
All instruments playing together make a more complete, full sound.
Your team will see the parallels between how an orchestra or ensemble plays together to make a huge sound. Then, they'll be able to tie that back to how they work together to make whatever product or service your company offers more well-rounded.
Not only is music an incredible analogy for a team working together, but it also opens the door that allows your team to work in a creative space. Music is the perfect tool to help broaden your team's imagination.
As your team expresses themselves on their musical journey, creative thinking will be at an all-time high. And we see this creative thinking touch all areas of a person's life– including their work. When you use music as a team building activity, the creativity that is fostered as a result will make people more inventive and open-minded in their jobs.
This sort of team building event can also create the perfect opportunity for role reversals within your organization. While playing music, you can let junior team members act as leaders to the senior management within the group. This can create space for development and empathy both ways. Junior team members see some of the challenges of leading, and senior managers are reminded of what it feels like to follow.
If you want to promote harmony within your team, using music as a team building activity is one of the clearest, hands-on ways to achieve it.
The Wellness Benefits of Music in Your Organization
Music is one of the strongest tools for self-development available to us as people. When you introduce your team to music instruction, you're granting them access to a proven source of mental, emotional, and physical benefits. You'll also see that some of these benefits overlap, providing multiple positive effects at once.
Physical Benefits of Music
Some tangible, physical benefits that your employees will experience may surprise you. Firstly, studies by the European Federation of Internal Medicine have shown that exposure to music can have a positive physical effect on the body.
The study shows evidence that music can have interactions with both the brain and the heart. One of the primary ways this occurs is by music triggering stress reducers that are naturally produced and released in the body. For this reason, music has been used more frequently as a therapeutic tool in treatment plans.
Other studies show that experiencing music instruction also promotes the creation of endorphins in the brain, specifically. As we know, endorphins are the "happy chemical" in our bodies. They help to wash away the stress-inducing cortisol hormones from the body– which can help improve a person's mood. When this occurs, you'll also likely see an increase in focus for longer periods of time. See how that could contribute to a more functional team? Us too!
When you have employees that are happier and more focused, it's a win-win.
Mental Benefits of Music
Some other measurable results of music instruction are the connections between the left and right brain, and how they interact. When your employees are working, they're looking for ways to optimize their workflow and be more efficient. This can, of course, be a good thing! But if we let our team focus too much on the logistics and execution of their jobs, it can stifle the creative parts of their brain.
Music is proven to activate the entire brain at once, so music instruction will help your employees use both the logical and creative parts of their brain at the same time. This can come as a welcome change to them. Many job roles don't offer ample opportunity to be creative, which can lead to overall mental stagnation. When you play music and activate the entire brain, the benefits don't stop when the music does.
The brain is an impressive piece of organic machinery. That machine works best with increased activity on both the left and right sides. Even when the music stops, your team members will continue actively using more of their brains. We often see people return to their jobs with newfound creativity and perspective that they wouldn't have had otherwise.
Emotional Benefits of Music
We've talked about the effect that music has on the body and the mind, but music instruction can have a profound effect on emotions as well.
There is tremendous emotional power in expression. When people are able to use music instruction to tap into a piece of themselves, it's a singular experience. Musical expression provides a sense of exhilaration and builds confidence while doing so. You'll see your team come alive in a new way when they play music together.
In addition, the physical effects listed above will also have an impact on your team's emotions. When their body and mind are feeling more at ease, they're going to feel a sense of relaxation. When this improved peace of mind occurs, we find that people also experience an increase in clarity, perspective, and focus. Just the kind of things you'd want your employees to feel when tackling that next big project or pitch!
Intangible Benefits of Music
We'd be remiss if we didn't mention that music has a beautiful and mysterious effect that's hard to put a finger on. A "je ne sais quoi" if you would. In addition to the more tangible and measurable effects that music instruction has, there's also something else that happens that's a little tougher to quantify.
If you've ever seen live music played, you'll know that there's a sort of electricity that comes along with it just being in the audience. Maybe part of that is the power of the spontaneous creation of something so beautiful. Maybe it's because music moves the soul as nothing else can. Maybe it's the connections we experience. That link between any group of musicians playing together, or the bond that musicians and their audience share.
No matter how you look at it and no matter how hard it is to measure, when you use music instruction as a method of team building you gain some benefits that can only be expressed with a smile, a shared head-nod, or an impassioned face.
Building Your Team With Music Instruction
As we mentioned earlier, your team needs no prior musical experience to be a part of a Musicians Playground team building event. Our staff will do all of the heavy lifting so you can enjoy and take part yourself, should you choose to. Here are just a few things you'll experience as we build your team with music instruction.
Our Coaches
You're going to have people of all kinds on your team, and that's okay– we're experts at matching you with the perfect coach. We have a hand-picked team of people who aren't just incredible musicians, but incredible teachers as well. Our coaches are charismatic, creative, and committed to giving your team the absolute best experience possible.
Our coaches know that many other team building events can have a reputation for being cheesy or boring. Not here! They know how to make your time with us super fun, and are trained to give you a corporate team building activity that is unlike any other. We use a combination of various exercises– large and small — to get incredible results.
Ensemble Work for Beginners
An ensemble is a group of musicians who perform together. No matter your team's skill level, we'll put together the perfect ensemble. Your team will be playing as one collective group, but will also get all of the individual attention they need.
Small Team Exercises
To build bonds between your team we'll also conduct breakaway, smaller team exercises. These are a bit more simple, and designed in such a way that no one feels singled out.
Large Team Exercises
We also have large team exercises that present a variety of fun, engaging musical challenges. These include a variety of different challenges that include musical aspects like songwriting, vocals, and rhythm.
Voice, Piano, or Guitar?
Participants will have the opportunity to learn a hit song on piano, voice, or guitar no matter their skill level. By being randomly assigned to a musical role, we ensure that everyone is stepping out of their comfort zone and into the realm of exploration together.
A Fun, Safe Environment
No matter which activities or exercises your team participates in, remember that we provide a fully fun, safe, and supportive environment.
In fact, we'll make your team feel so at home that you'll likely be surprised by their response. In our experience, your team will very likely become so comfortable that many of them will take creative risks that pleasantly surprise you– and themselves!
The beauty of these events is that people end up doing remarkable things in groups of all sizes. Also, remember that at any point your team can opt in or opt out based on their comfort levels. We keep a close watch on your team, and while we may encourage people to leave their comfort zones, we never require anyone to do something they're very uncomfortable with.
Team Building and Music Go Hand In Hand
As you can see, music instruction in a group setting is an option that goes beyond most team building games and activities. Music naturally requires synchronization, unity, communication, and teamwork.
Additionally, playing music releases stress, and allows people to express themselves in a way they normally would not in an office setting. Because music is one of the single most shared references we have as a society, the connection that is formed between people who play together is unlike anything else.
Music and team building go hand in hand seamlessly. If you want to equip your team with the most powerful team building tool possible, consider using our group music instruction options for your next team building event.
We Promote a Growth Mindset
A growth mindset is a specific way of thinking that fosters the idea that we as people can practice and become good at anything. It explores the idea that each individual's talents aren't fixed, but that anyone can learn new things through hard work, the right planning, and the right feedback.
Here at Musicians Playground, we fully believe in a growth mindset, and will help your team explore and experience it in the various exercises we'll guide them through.
This mindset is invaluable when it comes to equipping your team to succeed. Not only will this help your staff develop courage, but it will also teach them to take the right kinds of risks, and give them practice improvising– all in a safe, fun environment.
Team Building for Corporate Groups is Our Specialty
Here at Musicians Playground we can help any organization fall in love with learning music. Our musically-driven team building events will help your team better themselves (and have a blast in the meantime).
When you partner with us, we'll use music to help build your team's connections with one another, and provide the perfect space for them to grow personally and professionally. You'll see stress and tension melt away as they begin to create something incredible together.
Our team building activities are built from the ground up to promote a fun, social, and transformative experience. As we've mentioned, you'll be given access to the very highest quality coaches in Boston who are not only musical experts in their own right, but have also been rigorously trained to conduct meaningful corporate team building activities.
Another thing your team will love is our unique, modern location. Our entire workspace has been carefully and thoughtfully curated and was designed to inspire. This welcoming space is the perfect place for your team to relax and recharge.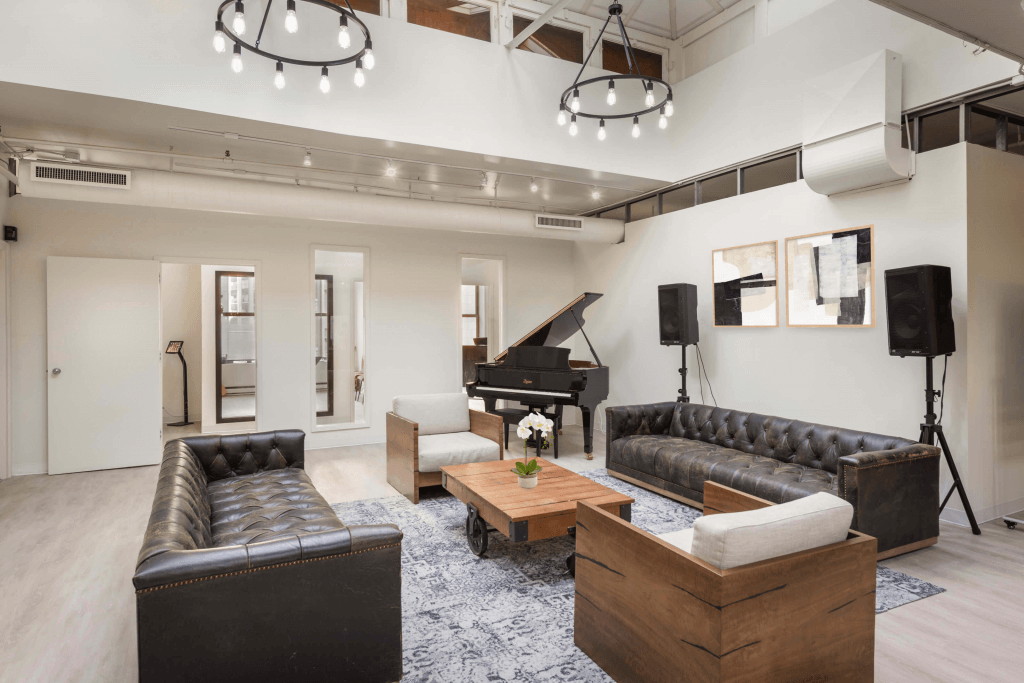 Your entire staff will also be using premium equipment during their team building activities. We'll give your team top-of-the-line instruments and technology that will maximize enjoyment and results.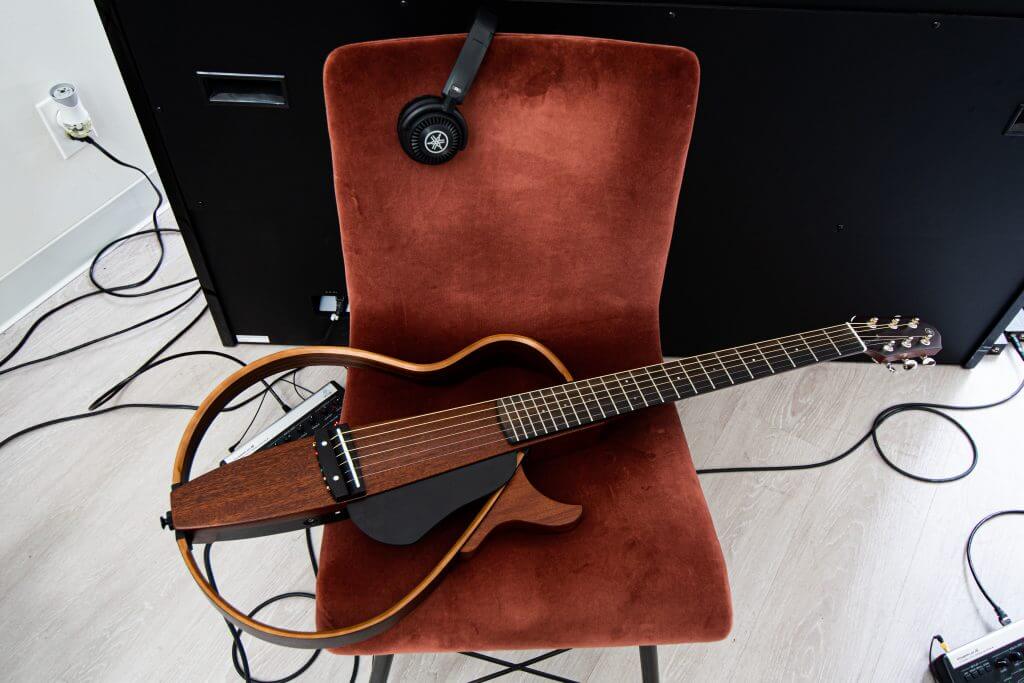 Let us show you a different kind of team building event that is exercise for your team's collective soul. You'll love your musical journey, and you'll see the benefits in your team's day-to-day workflow.
Let's talk today! Fill out a form with your information, or book a meeting on our Calendly page.